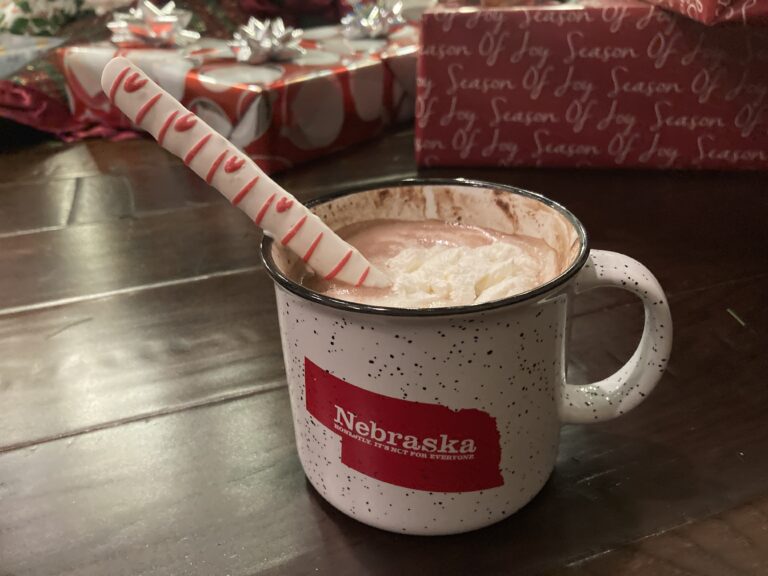 What is festive, warm, cheery…oh and yummy?
If you yelled out "HOT CHOCOLATE!" well then, you are correct…!! Every Christmas, we love to make our cherished annual holiday hot chocolate bar. Since a hot chocolate bar is so pretty– this is actually an easy and fun way to decorate your house. And, after fighting the holiday crowds, nothing is better than coming home and having a little love❤️ in a mug! A hot chocolate bar is fun, festive, and yummers! Let's make an easy and inexpensive Holiday Hot Chocolate Bar!
How to Make Your Hot Chocolate Bar
You can look at Pinterest for a lot of ideas…But copying those pins might mean buying expensive odds-n-ends.  My goal is always to make a festive hot chocolate bar as easily and inexpensive as possible.  So, no buying a lot of stuff…Okay?!  Let's see what you have that you can work with.
Level Up!
Different levels make your hot chocolate bar really pop.  I have a cake stand, and I bought a second little cake stand from the "dollar section" of Target.
Target has other inexpensive cake stands.
Here are two other possibilities from Target, but a bit more pricey…a 2-tier cake stand and a 3-tiered metal stand.
Stars in the Jars
Jars are a bit of an obsession for me:  I love them…all shapes and sizes.  And, they are so perfect for our Holiday Hot Chocolate Bar!  How inexpensive to use jars to house our hot chocolate goodies!!  I put M&Ms in a mason jar and marshmallows (leftover from Thanksgiving) in an old olive jar.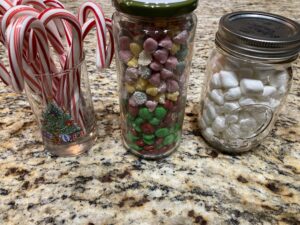 How about candy canes and maybe some hot chocolate stirrers? or these?
Some Assembly Required
😀Here comes the fun! Let's put it all together.  Add your touches to make it special. One of my friends gave me a holiday casserole dish, and that's where my packets of hot chocolate are.
Fun. Cheerful. Yummy. Lifetime Memory. You just made an easy and inexpensive Holiday Hot Chocolate Bar!  Yeah you! Send me your pictures!  (♥️Thank you Stephanie, Cat, and Lisa for sending♥️ ) 
Lisa serves up a crockpot of hot chocolate in the lovely mugs pictured above.
Stephanie's hot chocolate bar from last year and this year (below).
Have so-much fun…and enjoy your love♥️ in a mug!